Our hilltop haven and surrounding vistas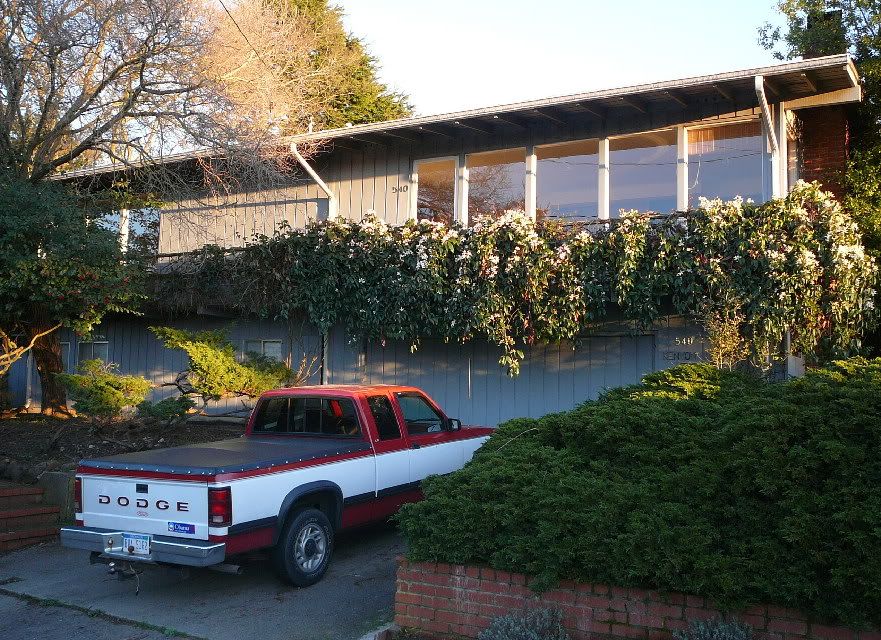 The front of our humble dwelling, with flowering vines on the balcony and our farm truck "Buzz" in the driveway.





Amanda plays guitar in the living room.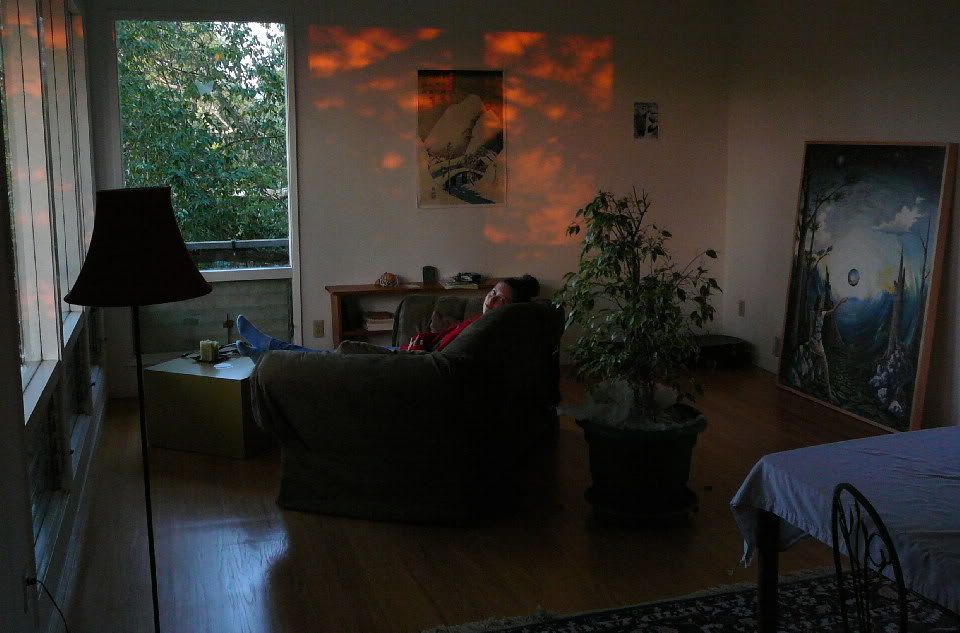 At sunset, tree-filtered patterns of color decorate the dining room walls.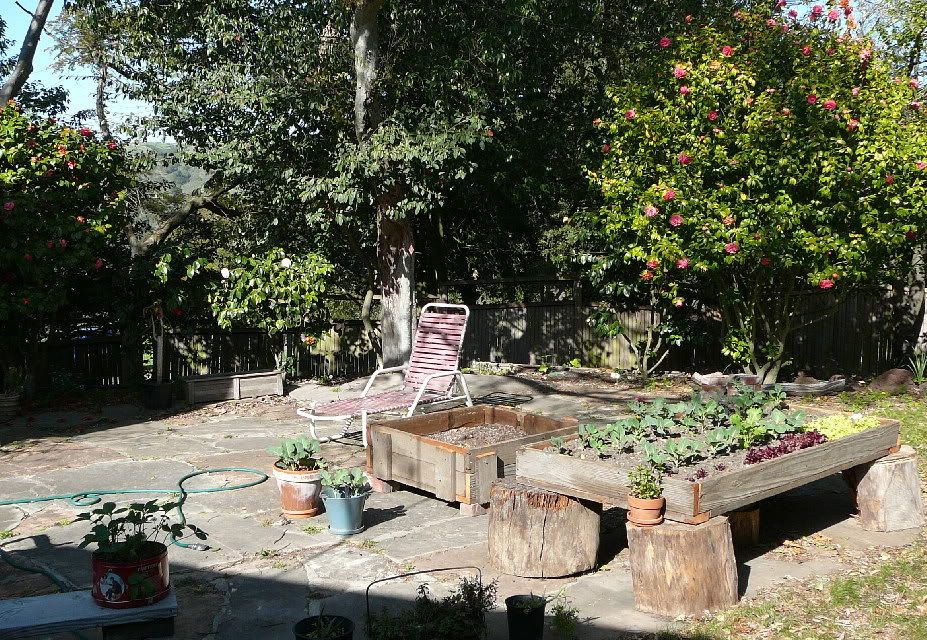 The big stone patio - with garden planters we made from salvaged redwood planks.




From the front of our house in the hills north of Berkeley, the right side view surveys Wildcat Canyon's parkland. Power lines are the only hint that we live in a major metro area.
The other view from our front rooms - the bay and Golden Gate Bridge at sunset.




Another sunset, this time looking straight ahead (north) from our balcony.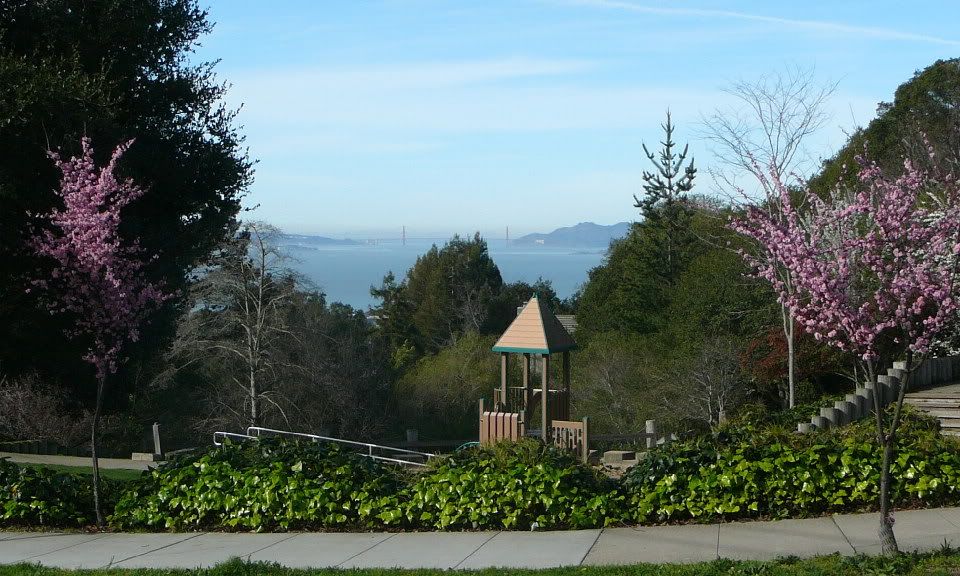 John's commute is a 10 minute downhill ride to campus, with bay views most of the way down.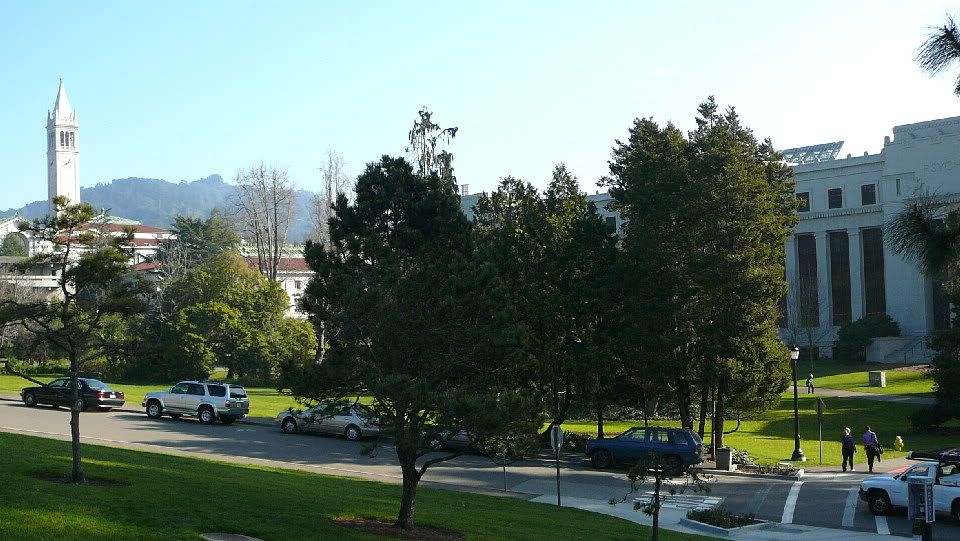 UC Berkeley's campus - I work in the Valley Life Science Building (right).
Another shot from John's commute - reward for the hard climb home.
Above campus alonside the national laboratory is the Lawrence Hall of Science. Here kids play on DNA and an orca (killer whale), with the San Francisco Bay and Golden Gate Bridge in the distance.




A couple random people, with that same backdrop. We were biking through the hills on our way to the botanical garden.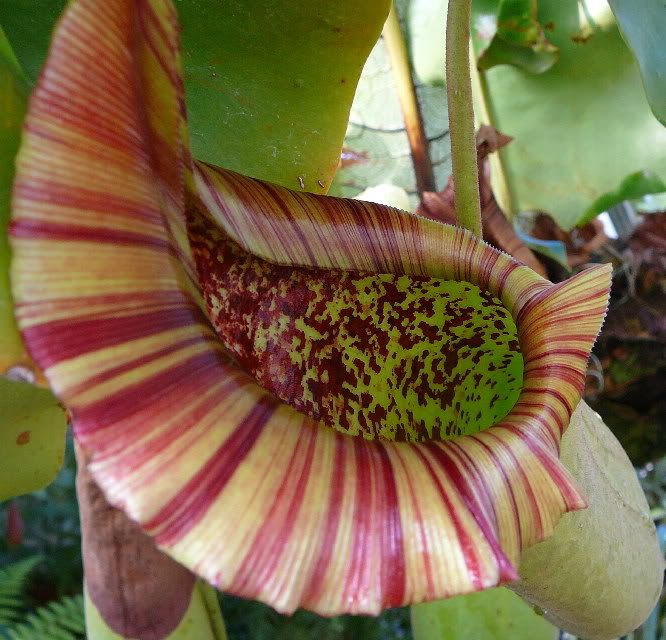 A close-up shot in the garden's carnivorous plant collection.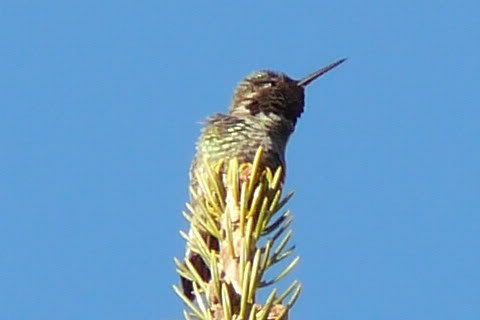 This vocal hummingbird kept coming back to its evergreen perch in the botanical garden.




Even more biking - all through the parks next to our house.




Looking down toward the San Pablo Reservoir, we spotted some turkeys.
At a lookout point we saw several lizards, including this scaly guy, and another that was doing push-ups to show off.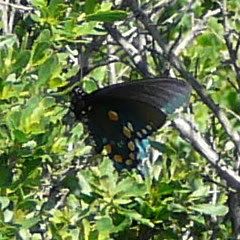 I was glad to get any kind of picture of this hyperkinetic butterfly.




This single-track took us through cow-browsed hillside pastures (with orange poppies) toward the north end of Wildcat Canyon park.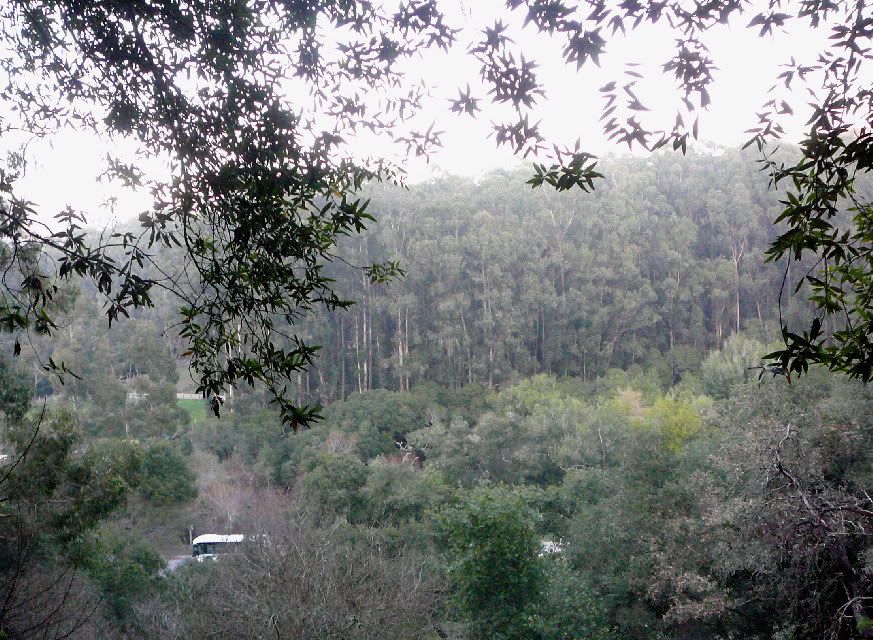 We can walk right into the canyon from our doorstep.




A dusky, almost-black-and-white shot of a deer in the canyon.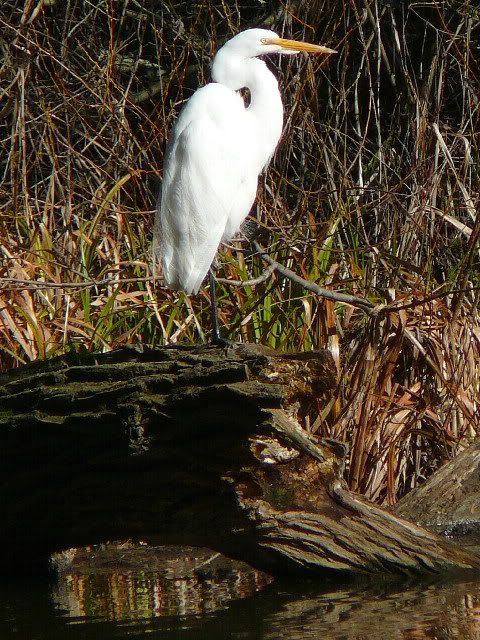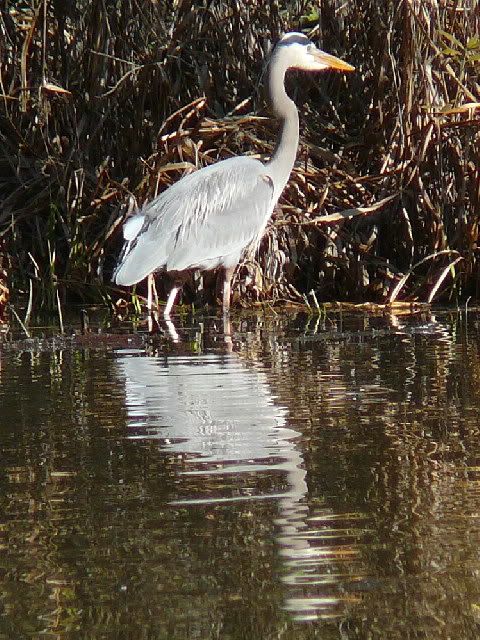 This egret got its feathers ruffled after the heron chased it from a prime fishing spot.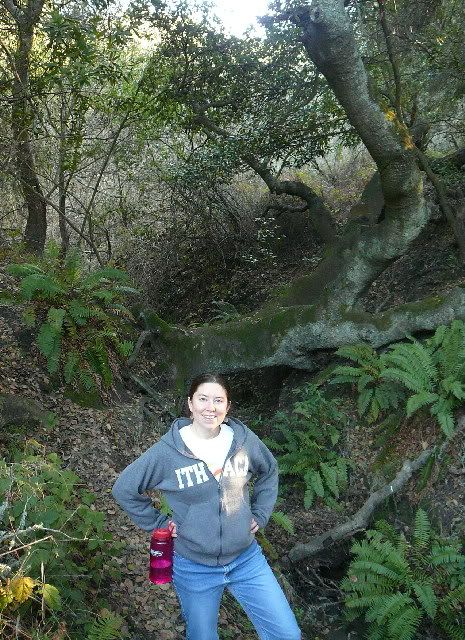 The tree behind Amanda fell over across the little ravine (forming a bridge), then kept on growing up the slope.




We hiked down into the canyon, then up the other side to reach views of the San Pablo Reservoir. Weather was warm and sunny enough for short sleeves in that microclimate.




On another day, hiking with Celine, we looked down at a kite festival on Berkeley's marina park.
Hiking with Doug (the one person who actually visited and stayed with us in Berkeley!), we can across a great horned owl amongst the eucalyptus trees (the trees were introduced from Australia, but someone forgot to bring the koalas to keep them in check).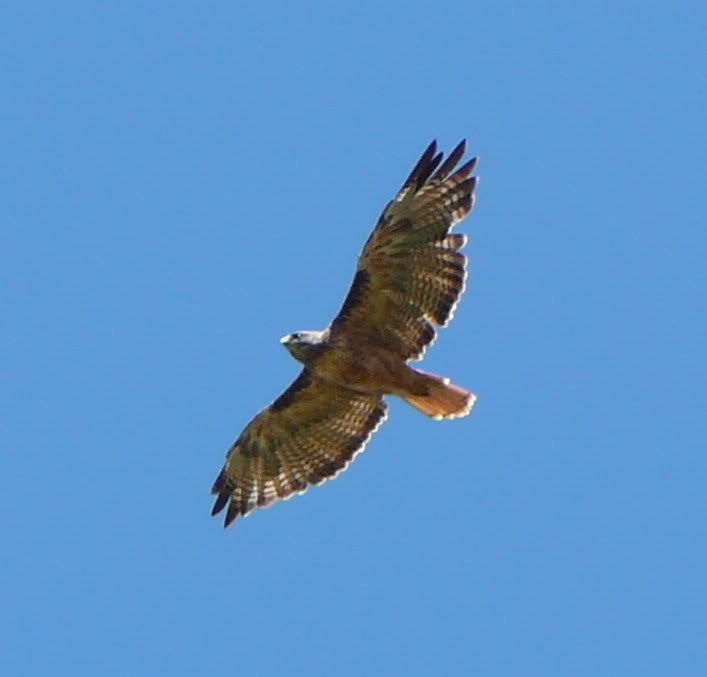 A raptor rides the thermals over the golden hills.
In Tilden Park's botanical garden, a hungry hummingbird feeds on the nectar of colorful lillies.